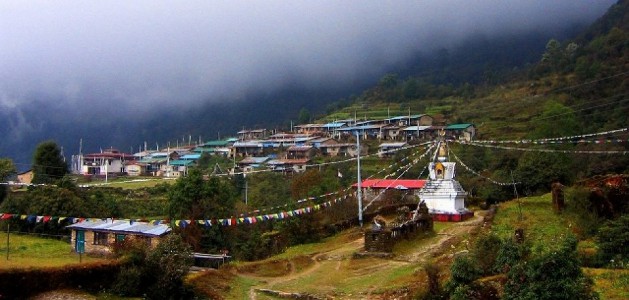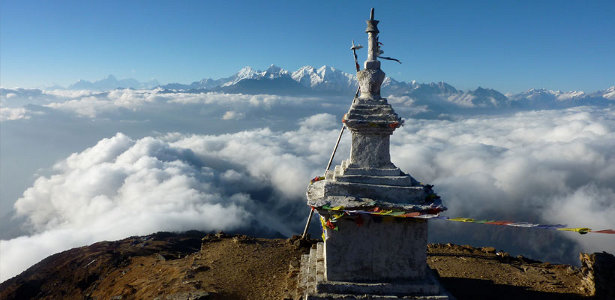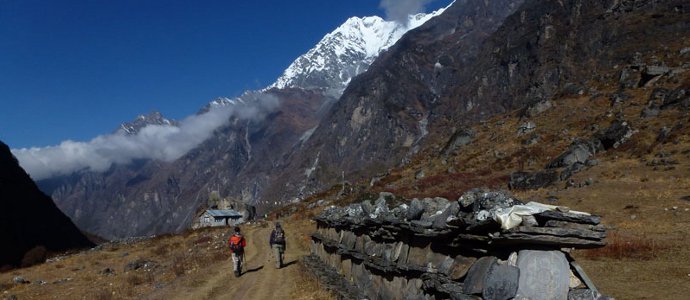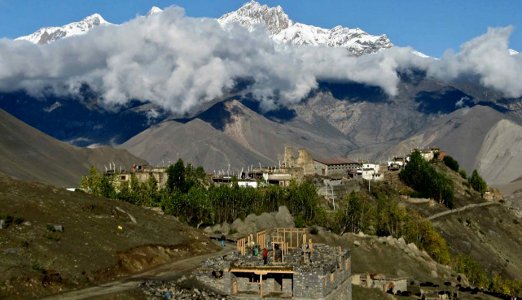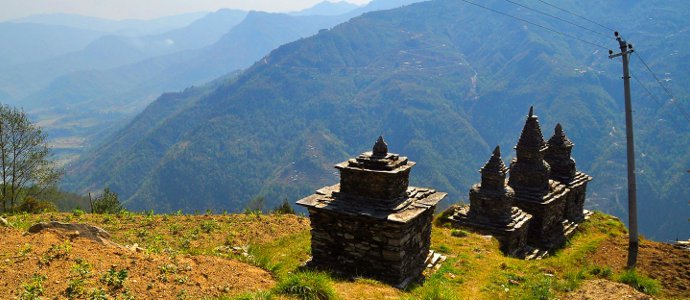 Helambu Trek – 9 Days
Highlight
An easy trek in the picturesque Langtang region with the rich Buddhist culture. Enjoy fantastic views of snowcapped Himalayan peaks, orderly rice terraces and Tibetan monasteries.
| | |
| --- | --- |
| Group size | 2 – 14 people |
| Trip duration | 9 days |
| Service level | Standard |
| Activities | Trekking and sightseeing |
| Maximum altitude | 3,690 m |
| Physical rating | Easy to moderate |
| Arrival / Departure at | Kathmandu / Kathmandu |
| Transport | Private vehicle between destinations for the activities included in the itinerary |
| Meals included | Breakfast in Kathmandu; all meals during trekking; a welcome dinner and a farewell dinner |
| Accommodation | 3-star hotels or equivalent. All accommodation is on a double occupancy basis |
| Age requirements | 12+ (children under 18 must be accompanied by parent(s) |
Trip Description
Helambu Trek is a popular short and easy trek which offers a great opportunity to explore Hyolmo culture of high mountain people in the Langtang region. The trek will take you through the Shivapuri National Park and the rhododendron and bamboo forests. Along the route, you will enjoy the wonderful views of rice terraces, snowcapped Himalayas and waterfalls. We will also observe the lifestyle of descendants of Tibetan people living on the highlands of the Langtang region, and take a close look at the beautiful Buddhist monasteries.
This trip includes a 6-day trek and one day of Kathmandu sightseeing. The short trek is a comparatively easy one that is suitable for all categories of travelers who want to participate in hiking. Although it is close to Kathmandu, this trek provides serenity and majestic Himalayan views, making it a great choice of escaping from city life.
Check out other trips in the same region: Langtang Valley Trek 11 Days and Langtang Valley Trek with Gosainkunda Lake 15 Days.
Itinerary Outline
Day 1: Arrive in Kathmandu (altitude:1,300m)
Day 2: Kathmandu sightseeing tour. Optional: Everest Mountain Flight in the early morning
Day 3: Drive to Sundarijal (1,350m, 1 hour), then start trekking to Chisapani (2,230m, 4 to hours)
Day 4: Chisapani to Kutumsang (2,470m, 6 to 7 hours)
Day 5: Kutumsang to Thadepati (3,690m, 5 to 6 hours)
Day 6: Thadepati to Tarkeghyang (2,600m, 5 to 6 hours)
Day 7: Tarkeghyang to Sermathang (2,580m, 4 to 5 hours)
Day 8: Sermathang to Melamchi Pul Bazaar (846m, 5 to 6 hours), then drive to Kathmandu (2 to 3 hours)
Day 9: Depart or extend your stay. Optional: Everest Mountain Flight (if not taken on Day 2)
About Accommodation
We will stay in 3-star hotels or equivalent in Kathmandu, and teahouses during trekking. All accommodation is based on double occupancy. Single occupancy can be arranged at request with an extra cost. However, single occupancy may not be available at some teahouses during trekking in high seasons.
A teahouse is basically a combination of guest house, a restaurant, and social hang-out place. The guesthouses are usually basic, with twin beds in each room and very little additional furniture. Blankets are generally provided but you may want to bring a sleeping bag as the temperature can be much lower at night in mountains. Most bathrooms are shared with either squat type or western style toilets. Teahouses usually have running water and cold shower. Hot shower is available at some teahouses at an additional cost.
Each teahouse has a large dining room, served as a restaurant and a social gathering place, warmed by the bukhara stove (an iron cylinder, fitted with a chimney duct, in which a log fire is lighted). As some villages do not have hydroelectric power, the dining room and the rooms usually use solar lighting. Some teahouses have electricity for charging small appliances (mobile phones and cameras) at a small cost.
Free WIFI is available in the hotels in Kathmandu. During trekking, some teahouses provide WIFI at a small charge, but in some places WIFI is not available.
About Meals
During trekking, we will usually have breakfast and dinner at the teahouse we stay, and lunch will be provided at one of the restaurants we trek by. Every teahouse serves the traditional Nepali meal Dal Bhat (rice and lentils), as well as a variety of different food items such as rice, vegetables, noodles, potatoes soup, and western food such as pizza, pasta and French fries. Non-vegetarian option is usually available at low altitude levels. However, due to the storage issue, fresh meat is not available at some teahouses above certain altitude, but preserved meat (sausages, salami, etc.) may be served.
One tea or coffee will be served in each meal during trekking. Soft drinks, snacks and beer are available to purchase in most of the teahouses and restaurants along the trails.
In Kathmandu, breakfast will be provided in the hotels. You will also be treated with a welcome dinner and a farewell dinner at a nice Nepalese restaurant. This will give you an opportunity to enjoy a well-prepared traditional Nepalese food and dance performance.
About Drinking Water
Although bottled water is available to purchase on the trail, we don't encourage the use of bottled water as the plastic bottles have a negative impact on environment. All teahouses provide boiled water for trekkers at a small cost. Bring your own re-usable or thermal bottles. Thermal bottles can also keep the beverage warm which is a delightful treat to your stomach in trekking when the temperature is low, Water filtration or chemical disinfection can be another option.
Physical Condition & Experience Requirements
This trek is an easy to moderate trek that is manageable for people who are able to walk for around 4 to 5 hours a day with a light daypack. People with pre-existing medical conditions such as heart or lung diseases or high blood pressure should inform Skyway Nepal Treks staff before booking the trek. Consultation with your doctor is highly recommended. Travelers are encouraged to exercise and walk or hike regularly for a few weeks before the trip. To enhance strength, travelers could simulate the trekking trip by hiking on difficult terrain with some level of elevation for a few hours and with a daypack containing a 3-5 kg load.
For this trip, spring (late February to mid-May) and autumn (late September to early December) are the best months. If you don't mind colder weather, the winter season (late December to January) is good for this trek with clear sky. Heavy rain during the monsoon season makes the months from June to August not suitable for this trek.
Booking Notes
- A customized itinerary can be arranged upon request.
- Alternative accommodation (luxury or budget level) may be available. Please ask before booking.
- If you wish to arrive earlier or extend your stay, accommodation can be arranged for you. Ask us about trip packages and options for trip extension.
- Ask us for optional tours and pricing. There are many exciting tours and activities that you may be interested. Please discuss with our staff before booking and after you arrive so that we can make necessary arrangements for you.
- Currency exchange service is available upon request.
Day 1: Arrive in Kathmandu
We will pick you up at the airport and transfer you to the hotel. The rest of the day is free time to explore in Thamel, the commercial centre in Kathmandu.
In the evening, you will be treated with a welcome dinner, including traditional Nepali food and dance performance, at a lovely Nepali restaurant.
Before the dinner, there will be a brief meeting with your guide to go over some important matters regarding trekking.
If you need to rent trekking gear, make sure to talk to our staff after you arrive.
(Meal included: Welcome dinner. Accommodation: Hotel in Kathmandu)
Day 2: Kathmandu Sightseeing
Take an optional Everest mountain flight (1-hour) in the early morning, if weather permits.
Optional:
A Nepali special,Everest mountain flight is a great way for travelers of all categories to witness the spectacular mountain scenery in the Himalayan range, especially for those who have a time constraint and those who do not want trekking.
Shortly after taking off from Tribhuvan International Airport, some of the world's famous mountains will be presented to you in sequence, and some of these glorious mountains are yet to be conquered: Gosaithan (8,013m), Dorje Lhakpa (6,966m), Gauri-Shankar (7,134m), Chugimago (6,297m), Numbur (6,956m), Karyolung (6,511m), Cho-oyu (8,201m), Gyanchungkang (7,952m), Pumori (7,161m), Nuptse (7,855m), and finally the world's highest mountain Everest (8,848m).
Floating over the snow covered world's highest mountains Everest, Lhotse, and Makalu, the spectacular views of the Himalayas will make you feel on top of the world. This 1-hour scenic flight provides sensational flying experience, which will stay in your memory for the rest of your life.
After breakfast, we will take a guided tour in Kathmandu Valley to four UNESCO World Heritage sites. Explore Hindu and Buddhist temples, pagodas, palaces and monuments. Treat yourself with a feast of cultural heritage and finest artworks.
Patan Durbar Square, also known as Lalitpur, is the oldest of the three royal cities in Kathmandu Valley. Patan is home to fine arts and famous for its rich cultural heritage. You will enjoy the beautiful woodcarvings and metal statues in Patan Durbar Square and learn about the history of this old royal palace.
Swayambhunath, also known as Monkey Temple, is a great example of religious harmony in Nepal. Along with the oldest stupas of its kind in Nepal, there are numerous shrines and monasteries. Legend has it that the glory of Kathmandu Valley started from this place. This site overlooks Kathmandu Valley, providing a great panoramic view of the capital city. Let the playful monkeys that wander freely in the temple amuse you. If you are into art, take time to visit the Thangka Painting School located in one of the towers. The exquisite Tibetan Buddhist art form is a guaranteed eye-opener.
Bouddhanath Stupa(or Bodnath Stupa), the largest stupa in Nepal, is one of the largest Buddhist shrines in the world. It is also the holiest Tibetan Buddhist temple outside of Tibet. Built in the 14th century, Bodnath Stupa is the centre of Tibetan culture in Kathmandu and offers rich Buddhist symbolism.
Pashupatinath Temple, one of the holiest temples, is worshiped both by Hindus and Buddhists.  It is the most important temple dedicate to god Shiva. It is believed those who die in Pashupatinath Temple are reborn as a human, no matter how they behave when they are alive.  Thus, every year, many elderly Hindus come here in the last few weeks of their lives, to die and to be cremated on the banks of the sacred river Bagmati.
The tour will finish in the mid-afternoon. Then it will be free time for you to explore Kathmandu further. Walk on the narrow streets in Thamel and enjoy window shopping of Nepali specialties. You can also escape to the historical and tranquil Garden of Dreams for a pleasant stroll.
If you need to do last-minute shopping for trekking gear, feel free to ask our staff for assistance.
In the evening, organize your belongings as we will leave very early next morning.
(Meal included: breakfast. Accommodation: Hotel in Kathmandu)
Day 3: Kathmandu to Sundarijal to Chisapani
In the early morning, our private bus will drive us to Sundarijal (altitude: 1,350m, 1 hour's driving). We will start trekking from Sundarijal from Sundarijal, passing a small hydroelectric plant and entering the Shivapuri National Park. Continue to ascend through oak and rhododendron forests, pass villages with mostly Tamang people, and walk down the hill before arriving at Chisapani (altitude: 2,230m, 4 to 5 hours' trekking). Enjoy the beautiful mountain peaks and the sunset views in the evening.
(Meals included: Breakfast, lunch and dinner. Accommodation: teahouse in Chisapani)
Day 4: Chisapani to Kutumsang
Today's hike is a mix of uphills and downhills. We will cross some meadows and pass Brahman and Chhetri village of Pati Bhyanjyang and Tamang village of Gulbhanjyang. Enjoy the beautiful views of Langtang mountains, and observe the local life on the way. After a short descent, we will reach Kutumsang (altitude: 2,470m, 6 to 7 hours' trekking).
(Meals included: Breakfast, lunch and dinner. Accommodation: teahouse in Kutumsang)
Day 5: Kutumsang to Thadepati
The trail today is mostly uphill through dense rhododendron trees. There is no permanent settlement along this section of the trail. We will walk on the ridge and enjoy magnificent views of the sacred Gosaikunda Lake and Helambu village. We will stay overnight at Thadepati (altitude: 3,690m, 6 to 7 hours' trekking), a great viewpoint for breathtaking views of the Himalayas.
(Meals included: Breakfast, lunch and dinner. Accommodation: teahouse in Thadepati)
Day 6: Thadepati to Tarkeghyang
Today's hike starts with a descent. After crossing the Melamchi Khola river, we will walk up and pass Sherpa settlements before arriving at Tarkeghyang village (altitude: 2,600m, 6 to 7 hours' trekking). Tarkeghyang is also known as Helambu as most of the inhabitants belong to the Helmu caste. The monastery in the village is one of the oldest and biggest ones in the Langtang region. We will walk around the village and visit the monastery before dinner.
(Meals included: Breakfast, lunch and dinner. Accommodation: teahouse in Tarkeghyang)
Day 7: Tarkeghyang to Sermathang
Our walk today is mostly downhill thus comparatively easy. We will hike around the wide valley, through forests and crossing streams. Enjoy the refreshing waterfalls on the way. After passing the Sherpa village of Gangyal, we will reach Sermathang (altitude: 2,580m, 4 to 5 hours' trekking). There is a monastery located at the highest point of the village. We will take a visit to the monastery and learn about the local lifestyle and culture.
(Meals included: Breakfast, lunch and dinner. Accommodation: teahouse in Sermathang)
Day 8: Sermathang to Melamchi Pul Bazaar, then drive to Kathmandu
Today is our final trekking day. We will trek down to Melamchi Pul Bazaar (altitude: 846m, 5 to 6 hours' trekking), a village with mostly Sherpa inhabitants. From there, we will board on our bus back to Kathmandu (2 to 3 hours).
After checking in the hotel, you may want to shop in Thamel for gifts and souvenirs before heading back home next day.
In the evening, you will be treated with a farewell dinner and Nepali dance performance. Make sure this time you entertain yourself by following the dance performers' lead to learn Nepali traditional dance.
(Meals included: Breakfast, lunch and farewell dinner. Accommodation: Hotel in Kathmandu)
Day 9: Depart or extend your stay
Depart at any time. Our staff will drop you off at Tribhuvan International Airport.
If your flight is in the afternoon, the optional Everest Mountain Flight could highlight the day for you if you did not have a chance to take on this once-in-a-lifetime adventure on Day 2. Ask our staff about it when booking this trip.
Optional:
Everest Mountain Flight (see details in Day 2)
(Meals included: Breakfast. Accommodation: None)
Price Includes:
- Airport / hotel transfers
- Private vehicle between destinations for the activities included in the itinerary
- All accommodation on a double occupancy basis
- Trekking Permit and TIMS fees
- All meals during trekking, all breakfasts in Kathmandu, one welcome dinner and one farewell dinner
- Duffle bag for trekking (to be returned after the trip)
- Experienced English-speaking trekking guide and a team of porters (one for every two clients) and assistants during trekking
- Entrance fees and an English-speaking guide for the Kathmandu sightseeing tour
- Insurance for the trekking guide and porters
- First Aid kit (carried by the trekking guide)
Price Excludes:
- International flight, travel insurance, visitor visa fee
- All optional activities
- Meals not mentioned (please allow for $50 – 80 USD for meals not included)
- Personal trekking gear (available for rent)
- Personal expenses
- Drinking water, snacks, hot shower and WIFI during trekking
- Tips for guides and porters
- Charges for excessive luggage
- Any other extra costs due to unforeseen circumstances
Optional Activities to Book during the Trip:
- Everest Mountain Flight (Day 2 or 9)
Suggested Activities or Tours for Extended Stay:
- Bardian National Park
- Chitwan Nation Park
- Bhaktapur Tour
- Highlights of Nepal 9 days
- Nagarkot Sunset/Sunrise with Bhaktapur Tour
- Trishuli River Rafting
- Lumbini tour
- Yoga Retreat
Required from you:
- Prior to your arrival: in order to obtain the trekking permit for you, we will need a scanned copy of your passport ID page
- After you arrive, the following items are needed from you:

* Three photos (passport size or smaller)
* Travel insurance and emergency contact information
Weather Related:
- Weather conditions in the Himalayas can change rapidly, which could result in alternations of the itinerary. Travelers need to be prepared for all weather conditions and changes in the itinerary if necessary. The group leader (or trekking guide) will take their best effort to make your trip experience enjoyable.
Risk Related:
- The itinerary is designed to allow for adequate acclimatization. However, you may experience altitude sickness and oxygen deprivation on this trek. Be sure to consult with your travel doctor before your trip. If the group leader (or trekking guide) deems it is unsafe for you to continue trekking at any point, you may be arranged to descend to a lower altitude or required to terminate the trek.
- Due to the nature of this trip, the activities included may involve some degree of risk. Obtaining travel insurance is highly recommended.
Baggage Related:
- Baggage requirements:

* Domestic flights: maximum 15 kg for check-in and 5 kg for carry-on for each passenger. Excessive weight could be charged for an extra fee.
* Porters during trekking: One porter will be assigned to two clients. Each porter will carry a maximum weight of 25 kg (12.5kg for each client, in a duffle bag or a backpack)

- A duffle bag will be provided to every two clients. You may want to bring a few smaller soft bags to keep your belongings together and tidy before putting them in the duffer bag.
- If you don't have your own trekking gear (trekking

poles, sleep bag, etc.), you can rent them in Kathmandu. Talk to our staff after you arrive (A sleep bag is recommended as nighttime temperatures in mountains can be low. Wearing a down filled or fleece jacket in sleeping can also keep you warm).
Clothing
Down jacket, 1
Waterproof jacket, light weighted, 1
Water proof pants, light weighted, 1 pair
Hiking pants, light weighted, 2-3
Base layer top, wool or synthetic, 2-3
Base layer bottom, wool or synthetic, 2
Middle layer top, fleece or other light weighted material, 1-2
Middle layer bottom, fleece or other light weighted material, 1
Short sleeve T-shirt, 2
Shorts, 1
Underwear
Other casual clothing (for non-trekking use)
Plastic bags (for wrapping clothes), a few
Footwear or Other Clothing Accessories
Hiking boots, 1 pair
Walking shoes or sport shoes, 1 pair
Slipper, 1 pair
Thick wool or synthetic socks, 2-3 pairs
Light socks, 2 pairs
Gloves, warm and water proof, 1 pair
Light gloves, 1 pair
Handwarmer, a few packs
Soap/ laundry hanger or clips/ rope
Shoulder bag (light weighted, for non-trekking use)
Trekking Gear
Day pack
Soft bags (1-3) (to put belongs in Skyway's duffle bag during trekking)
Sleeping bag
Sleeping bag liner
Reusable water bottles or hydration pack (Camelbak)
Water filter or disinfection tablets (nice to have)
Light weighted thermos (nice to have)
Head lamp or flashlight with some batteries
Sunglasses
Sun hat
Headscarf or bandana
Walking poles
Gaiters (nice to have)
Raincoat (nice to have)
Crampon (nice to have)
Travel knife (nice to have)
Small pack of duct tape (nice to have)
Personal Hygiene and Skin Care
Personal Hygiene kit
Skin care products
Hand sanitizer
Sunblock
Lip balm
Hand moisturizer
Drying towel, light weighted, 1
Small face towel, 1
Travel tissue pack, a few packs
Toilet paper (a few rolls)
Nail clipper
Food and Snacks
Dried meat
Nuts
Chocolate
Energy bars or other snacks
Chewing gum
Documents and Money
Flight e-ticket
Passport and a copy of ID page
Passport-size pictures, 4 (1 for visa application and 3 for the trekking documents)
Cash (for trip cost balance, tips, meals not included, personal expenses, shopping)
Credit card / debt card
Money belt
Travel insurance policy document and contact
Emergency contact information
Hotel name in Kathmandu (need it when filling out Arrival Card at the airport)
Travel agency's contact info
Medicine and First Aid
Medicine prescribed by the travel doctor
Prescription medicine (if any)
Band aids
Callus cushion (for callus and blisters)
Advil or Tynol (for headache, dry cough and cold)
Gravel (for nausea)
Halls or other medicine (for sour throat)
Electronics
Multi-volt adaptor
Camera, charger, backup batteries and backup SD memory card
Cellphone and charger