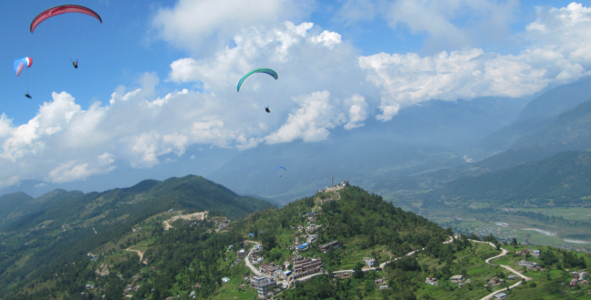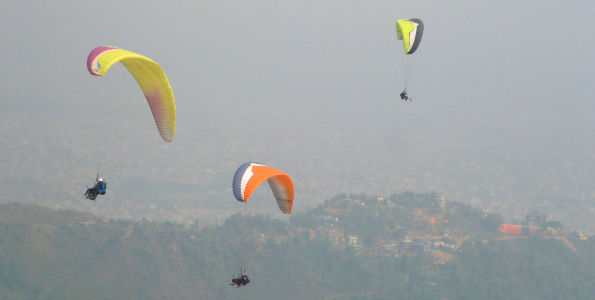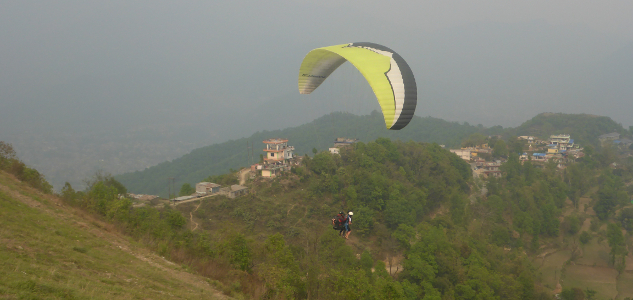 Paragliding in Pokhara
Trip Description
Pokhara is one of the top paragliding locations in the world.  The awesome take-off location at Sarankhot, the beautiful landing zone next to the Phewa Lake and the stable thermals in the area make it a great paragliding location for a fun and safe flying adventure.
Paragliding is a thrilling way to view the beauty of Sarangkot and Phewa Lake.  While wind brushes your face and floats you in the air, you are as free as an eagle to enjoy a bird's eye view of the Phewa Lake and fantastic views of the snowcapped Annapurna mountains.  It is definitely a sensational and memorable experience.
No previous aviation experience is required as you will be seated in a harness which is attached to the pilot's and to the wing.  All you need to do is to sit back and relax, enjoy the amazing feeling of flying and great views, and take pictures if you want.
What this activity offers is not limited to the exciting flying experience.  The take-off location is at Sarangkot where you can overlook the city of Pokhara and the charming Phewa Lake.  The landing spot is at the lakeside of Phewa Lake, known for spectacular sunrise and sunset views over the Himalayas. 
Don't miss an exciting opportunity to take this fun and adventurous activity.  If you are embarking on a trekking trip or any tour that needs you to stay overnight in Pokhara, this activity can fit in your schedule easily without requiring an additional day.
What is Included
- Qualified paragliding pilot
-  Tandem paraglider
-  Photographing and videotaping by the pilot and saved on a CD
-  Transportation for the activity
Important Notes
Weather conditions and unexpected natural disasters could result in alternations of the itinerary or cancellation of the trip for safety purposes.  The group leader will take their best effort to make your trip experience enjoyable.
Due to the nature of the activity, it may involve some degree of risk.  Obtaining travel insurance is recommended.